SPC Founder Fellowship Spring 2023
$400k for 7% for founders in the -1 to 0 stage exploring any venture-scale opportunity.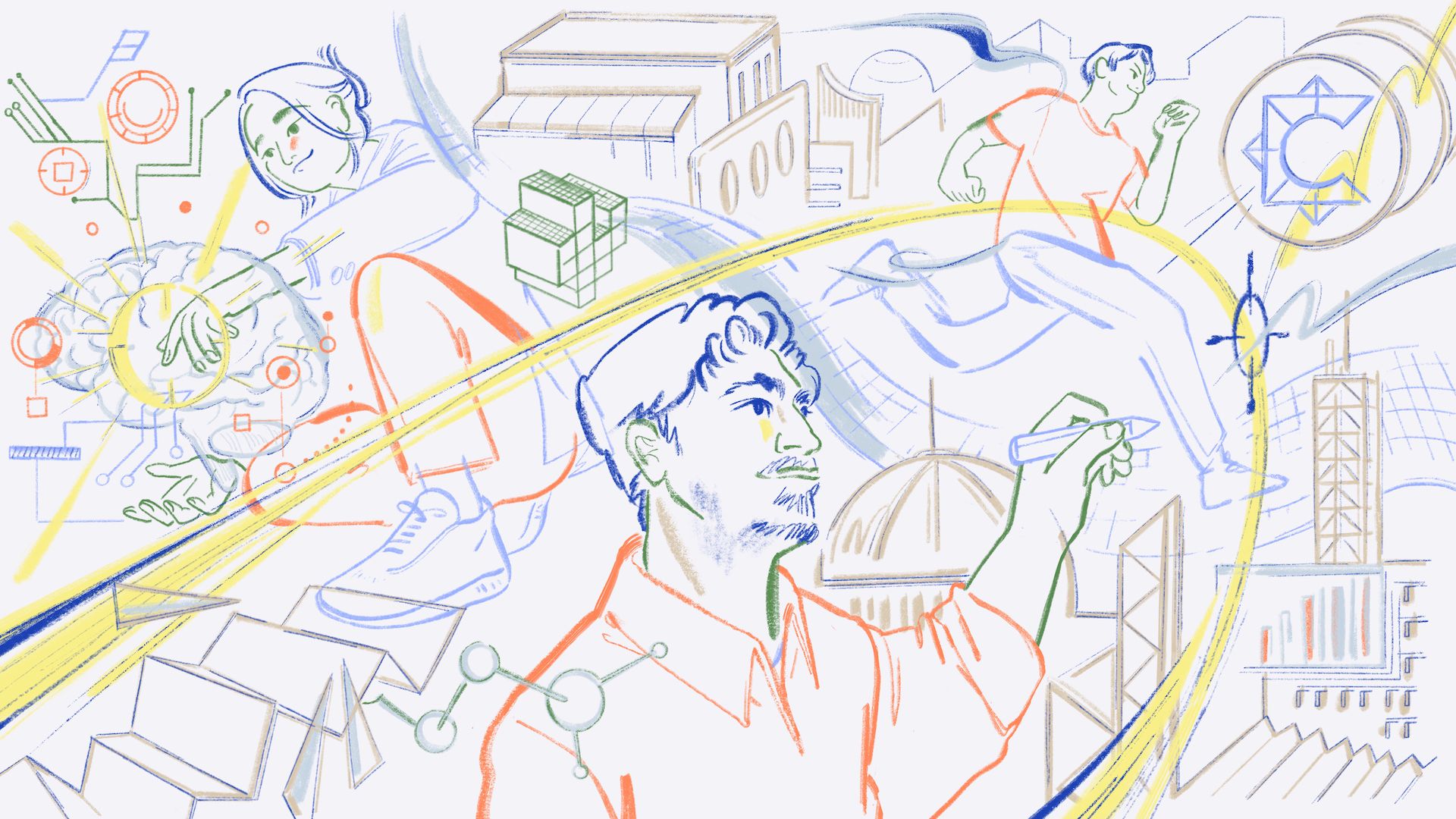 When we first launched the SPC Founder Fellowship at the end of 2020, the startup world looked...a little different. Founders were entering the most supercharged funding environment in history. Many observers saw the Founder Fellowship giving $400k to founders pre-idea as an example of what's now called a "zero interest rate phenomenon."
It's not. We're excited to open applications for our next Founder Fellowship with the same founder-friendly terms.
We've all felt the pace of technological change pick up recently. That shift signals opportunity. The new macro environment has dramatically increased the value of sharp product and market thinking—exactly what the Founder Fellowship is designed to develop. This is the best time to build in a generation. You don't even need an idea to start (though if you have an idea, we want to hear from you too). All that's required is outrageous ambition and a guiding light.
Show us your north star and we'll help you build a rocket ship
Our terms are still $400k for 7% on a SAFE. Teams also get membership in the SPC community and a proprietary curriculum we've refined to help you validate ideas, all in a small cohort with direct mentorship by SPC partners.
We will review applications on a rolling basis. This will help us maximize attention paid to each application and get decisions out quickly. We will close the application once the cohort fills, so we encourage you to apply as soon as possible.
The next cohort is open to all venture-scale company ideas. We are not restricting applications to a particular market or industry. Your north star could be a market that interests you, a problem you can't stop thinking about, a product you think should exist, or anything else that guides your ambition.
With the success of our previous cohorts, we're more confident than ever that the Founder Fellowship is the best place for founders in the -1 to 0 stage. Founder Fellowship companies are already building products to take on tax monopolies, defeat chronic disease, remake the insurance industry, fix the permitting process for new housing, eliminate fraud in digital assets, create AI assistants with working memory, build the financial OS for crypto, change how software companies bill users, and more. We want to see the same diversity in our next cohort.
Turbulent times are opportunities. The Founder Fellowship is here to help the world's best founders bring clarity to chaos and build generational companies. We expect there are more than a few remarkable builders out there who have recently found themselves with a lot of free time and a chip on their shoulder. Others have been waiting for the right moment to finally take the plunge.
Don't wait for the moment. Choose it.
FAQ
What is the Founder Fellowship?
SPC's Founder Fellowship is a different way for entrepreneurs to start a high growth, venture-backable startup. We give founders their first outside investment, help them ideate and iterate to a viable product, and assist them in raising from the best VCs in the world.
We take a boutique and customized approach to helping founders, recognizing that there is no one-size-fits-all way to start a company. Our cohort sizes are small, with one partner for every two companies. We do not have a demo day, and when the time is right for you to raise, we'll make introductions to the best investors.
We offer $400,000 to founders to pursue an idea, in exchange for 7% equity via a SAFE. We can help identify the right market, support you as you build your first product, find first customers, and help raise a seed round.
How does the Founder Fellowship work?
Fellows receive:
Capital
$400,000 for 7% equity via a Simple Agreement for Future Equity (SAFE)
SPC Startup Forum
10-week Curriculum — program put on by the SPC Community with other founders and domain experts, centered around a proprietary curriculum. We have collected time-tested articles, videos, and books on thinking about markets, ideas, and products the way the world's best founders and investors do. This helps founders avoid common pitfalls and increase their chances of creating a successful high growth startup.
Speaker Series— we invite tech luminaries to our weekly Forum and host one-off events. Prior cohort guests have included Nathan Blecharczyk (Airbnb), Reid Hoffman (LinkedIn), Mike Krieger (Instagram), Neha Narkhede (Confluent), Tope Awotona (Calendly), Anatoly Yakovenko (Solana), Howie Liu (Airtable), Connie Chan (Andreessen Horowitz), and more.
Experience
SPC Membership—become part of one of the most talent-dense networks in technology.
Design Critiques— work with fund partners and peer fellows to hit milestones in the ideation, validation, and prototyping phases. These sessions help share goals, build momentum, and drive accountability.
Labs focused on "doing" — partner-led building groups focused on technical instrumentation, prototyping, product metrics, PMF, best practices for continuous deployment, etc.
Alumni Forum — an online forum to continue the conversation with other founders in your cohort and SPC alumni, even after the fellowship is over.
Access to domain experts across a variety of fields in artificial intelligence, fintech, social networks, web3, energy, developer tools, climate tech, and more.
Access to a network of founders and executives from the seed stage to IPO at companies ranging from OpenAI, Google, and SpaceX to breakout companies such as Coinbase, Figma, Notion, Airtable, Pilot, Unit21, and more.
Hands-on fundraising support to raise your next round of financing, including guidance crafting a pitch deck and introductions to top angel investors, seed firms, and VCs. Companies from our previous cohorts have gone on to raise from partners like Greylock, First Round Capital, Index Ventures, Bain Capital Ventures, Susa Ventures, OpenAI, and more.
$200K in credits from AWS, Google Cloud, Brex, Pulley, and other companies.
How is the Founder Fellowship different from other accelerators or incubators?
We help at the -1 to 0 phase, even before founders have an idea (though we also welcome founders already working on one).
More money and a higher valuation for your company. Most accelerators offer smaller checks for more equity. We offer $400K for less equity, in many cases more than doubling your valuation. We believe great ideas may take more than a few months to materialize and founders should avoid moving too quickly because they are cash-constrained.
No idea necessary. We can help you find a great market and idea for which you are well suited.
No fixed timelines. We'll work on validating ideas and fundraising on a timeline that makes the most sense for your idea.
Small cohorts with direct partner mentorship. Each company works directly with partners several times per week.
Do I need an idea to apply?
You do not need an idea to apply.
That being said, a great idea is a critical component of long term success. If you do not have an idea, we will need to assess your ability to generate great ideas. Be prepared to discuss markets you find interesting, previous ideas you have considered and discarded, and the sorts of startup ideas and insights you find compelling and why.
If you do have an idea or are already working on a product, you are also welcome to apply.
Is the Founder Fellowship limited to specific industries or domains?
No. Our next cohort is open to founders exploring any venture-scale opportunity.
Can I apply as a solo founder or do I need a cofounder?
It can be challenging to start a company solo, and we hear from our fellows that having a collaborator is extremely valuable on this journey. We do accept solo founders, but we have a preference for teams. If you're a solo founder, we have a strong bias towards applicants who have the skills to build and prototype. If you are accepted as a solo founder, you'll likely benefit from a co-founder and we can help in the search process — previous fellows found co-founders in the SPC community.
What are the upcoming cohort application deadlines, program dates, & location logistics?
Application Deadline: Friday, March 10th at 11:59pm PT
Interviews: Scheduled on a rolling basis (so apply as soon as you can—applications will close once the program fills)
Program Start Date: All team members must be full-time available for the program start in early April 2023
Location: We have no geographic preference for teams. The program will be hybrid, with both remote and in-person options. All events will include remote access, but teams in the Bay Area and New York City will have access to SPC community spaces. All programming will be based on Pacific Time Zone hours. You do not need to be in the Bay Area or United States to apply or participate.
Who is behind the Founder Fellowship?
The Founder Fellowship is organized by South Park Commons and run by Founder Fellowship partners Ruchi Sanghvi, Aditya Agarwal, Mitra Lohrasbpour, Finn Meeks, and Bala Chandrasekaran. We are builders, entrepreneurs, technologists, and investors who love helping other entrepreneurs succeed.