Recapping SPC Demo Faire August 2023
Check out the latest and greatest demos from SPC members and alumni!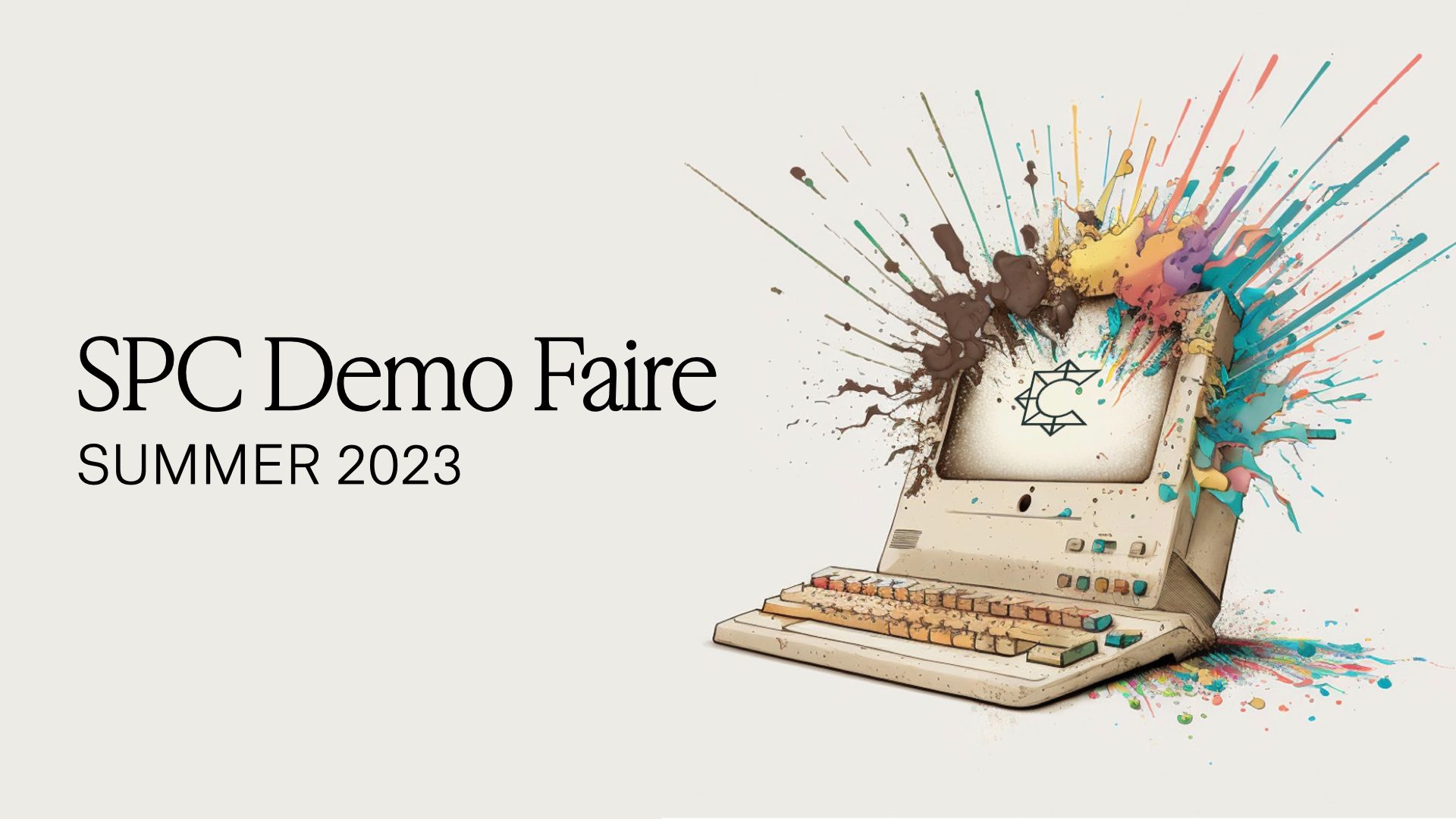 The August 2023 SPC Demo Faire was a special one—it was our first we've hosted primarily in-person and had the highest attendance ever. It also showcased the widest range of demos yet, from impressive early-stage member hacks and open-source projects through sneak peaks at new products from companies at Series B and C.
Check out the video recap and summaries below for a peak into what the incredible members of the SPC are building. Some demos were off-the-record and others were, so if you want to see everything you'll have to join our next Demo Faire in person!
Don't miss the individual demos below!
---
Anurag Goel, CEO of Render and SPC alum, showcased the evolution of his company's hosting and app deployment platform, emphasizing its simplicity over Kubernetes. With new Project concept and Preview Environments, Render streamlines deployment and infrastructure management for both simple and complex apps. The platform, now a Series B company, is a game-changer in application hosting.
Elevate your aspirations with Summit. Founder and current SPC member Alex Roe showed us this AI-powered personal coach, where users input their objectives, from personal aspirations like mindfulness to career goals, and the AI offers actionable steps, feedback, and guidance. Summit's AI coaching extends beyond the app, offering real-time prompts and interactions via text, seamlessly integrating the coaching experience into daily life. The iOS app is available for early access!
Varun, an engineer at Baseten, dived into machine learning infrastructure and Baseten features like auto-scaling based on traffic fluctuations and innovative cost efficiencies like lightning-fast cold starts. Baseten also makes MLOps dramatically more user-friendly, letting users bypass Kubernetes, Knative, and Docker files.
Fulcrum
SPC Founder Fellows Arjun Mangla and Sambhav Anand unveiled Fulcrum, an AI platform for real-time automation of mundane enterprise processes. Centered on a Salesforce workflow, the demo dazzled with its quick ability to learn and adapt to user actions, leaving traditional RPA bots in the dust. Fulcrum's adaptability and time savings will reshape enterprise automations. Many aspire to the same goal—Arjun & Sambhav showed us how they're actually achieving it. Reach out to them if you want to learn more!
SPC member Ryan Curtin, the first recipient of the SPC Community Grant, publicly revealed Bandicoot, an innovative open-source C+ linear algebra library with GPU support. Before Bandicoot, scientific computing lacked a good C+ linear algebra primitives for GPUs. No more! Now there's a user-friendly interface that lets you take your CPU-specific code and use it with GPUs, without getting lost in compiling code for CUDA or OpenCL.
Founder & CEO James Clift, a graduate of the very first Founder Fellowship cohort, demonstrated how Durable is bringing AI to every small business and solo-entrepreneur. Consolidating crucial business tasks like website development, CRM, and content marketing, along with a unique AI assistant, Durable takes on the heavy lifting to help small businesses focus on what they do best.
Already well-known for pushing the boundaries of 3D visualizations on consumer hardware, Luma AI product lead Barkley showcased the company's latest dazzling product: Flythroughs. The new app allows users to capture their living spaces as detailed 3D environments using just their phones, pairing AI-powered cinematic trajectories with high-quality digital renderings. The Flythrough app is available now!
Suggestly
Current SPC member David Gudeman showed us Suggestly, a sales copilot for Zoom calls. Suggestly automatically transcribes your Zoom conversation, identifies queries, and swiftly provides answers from a pre-established database—perfect for onboarding new sales members or dealing with complex technical products.
Autonomi AI
SPC members Sudeep Pillai and Scott Loftin presented a compelling demo of their tool called NOS. Designed to optimize and scale PyTorch models, NOS enables AI developers to seamlessly transition from development to production. The highlight of the presentation showed how NOS can accelerate a vanilla PyTorch model and amplify its processing capabilities tenfold, all with minimal code alteration.
---
We hope you've enjoyed these demos as much as we did. Stay tuned for word on our next SPC Demo Faire! And if you're in the -1 to 0 stage and interested in SPC membership, apply with the application below.