Recapping SPC Demo Faire 2021
To celebrate SPC's culture of building, we held a Demo Faire in September 2021. Here's a recap of the impressive demos from members & alumni.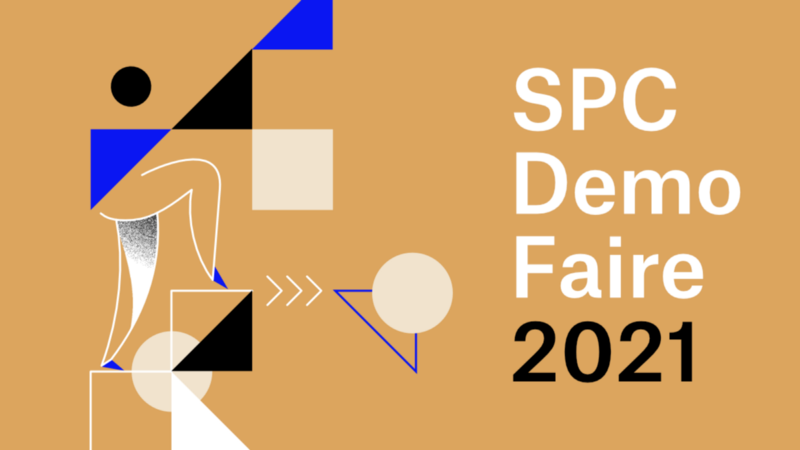 South Park Commons is all about the -1 to 0 phase, when your task is to turn the chaos of possibilities into the clarity of conviction. It's a place to figure out what you want to devote yourself to next. But -1 to 0 isn't just about learning—it also about doing. To celebrate this culture of doing we hosted our second annual Demo Faire last month.
Our community is a home for hackers, tinkerers, and builders of all sorts, so it's no surprise that alumni regularly go on to create incredible companies, projects, and products. The Demo Faire was a chance to celebrate the community's creativity. Several current members joined in the festivities by showing off projects they're hacking on.
This was no slideshow—all demos were delivered live. And each and every one of our fully-remote, live demos went off without a hitch or glitch. Over 200 attendees witnessed this remarkable feat. If you missed it you can watch most in the video link, or peruse the recap below. A few demos were off-the-record. For the full view of what our incredible members and alumni are working on, you'll just have to join us for our next Demo Faire.
---
Here's a quick recap of the community members and companies that presented.
Code for Democracy: Founded by current SPC member Kathy Qian, Code for Democracy kicked things off with a demo of the non-profit's tool suite for government accountability. Kathy regularly works with journalists and watchdog groups to keep politicians and government honest.
Best Practicer: If you've ever run into the problem of maintaining momentum in skill acquisition when you're no longer in the early stage of a career, you should check out alum Andy Scheff's Best Practicer, a platform for mid-career professionals to level up their skills with curated content, coaching, and tracking.
Rolling.AI: Current member Hongzi Mao impressed everyone with his super-smooth demo of Rolling.ai, adding a custom, real-time visual layer to his livestream content. It's livestream editing right in your browser. Everyone wanted to know how he did it.
Blank Foundation: NFTs are all the rage, but what about an NFT of a completely blank jpeg—which owners can then evolve into unique works of art through voting rights? That's the idea behind Chase Adam and co's Blank Foundation, where all profits are split between maintaining the community and charity. It's even cooler than it sounds.
Archimedes: Retail trading platforms have democratized investing, but they haven't addressed the information gap new retail investors face. That's what recent SPC graduate Simon Gu's company Archimedes fixes. It's the modern investment coach for the Robinhood generation.
Plato: Michael Gummelt just raised a seed round and graduated SPC to work on Plato, a low-code platform for building live internal tools that had all the software engineers in the audience buzzing. And he's hiring!
Momentum: Keeping sales teams on the same page can be a nightmare. Santiago Suarez Ordoñez showed us how Momentum is solving the problem with a sales coordination platform built natively in Slack.
Playbook: If you've ever dealt with the frustration of trying to keep design assets organized in Dropbox, you'll love Alex Zirbel's demo of Playbook. Playbook is cloud storage for creatives (and the creative running this blog was VERY excited).
Hardline: Tech should work for jobs outside of the office as well as it works for jobs inside. Hardline founders Jeff Calvin, Seth Forsgren, and Zac Crockett gave us a killer demo of tech that does just that, with push-to-talk functionality that works on your phone and on dedicated hardware.
Station A: There's enormous potential for solar installation on commercial buildings. Madhulika Jain Chambers showed us how Station A is building the first AI-powered clean energy marketplace, making it easier than ever for property owners to go zero-emission.
Atlys: Ever had to get a visa to travel to another country? It's awful. Mohak Nahta showed us how Atlys gets the average time to apply for a visa down from 12 hours to 7 minutes. You can use Atlys to speed through the visa process now!
Material Security: Most digital security products only stop threats from getting into your system. Max Pollard showed us how the Material Security API protects your company's email AFTER it's been compromised by locking sensitive content after an email is sent or received.
Facet: Last year, Facet co-founder Joseph Reisinger wowed us, and his encore demo this year didn't disappoint! Facet is the content-aware, API-first, AI-native image editor for modern creative teams. And they're expanding on their video capabilities, too!
Wonder: Finally, CEO Guy Cohen showed us Wonder's personal, on-demand research assistant. You can ask them anything—literally anything—and they'll get you a fully-cited custom report in 24 hours.
---
We're so proud to count these incredible founders, developers, and product geniuses as members of the SPC community. Many of their companies are hiring — if you have any interest in working with them, we encourage you to check out our job board!